Posted on | August 16, 2010 | 1 Comment
Original article by Fe Zamora, published in the Philippine Daily Inquirer – 22 August 2008
(Second in a series)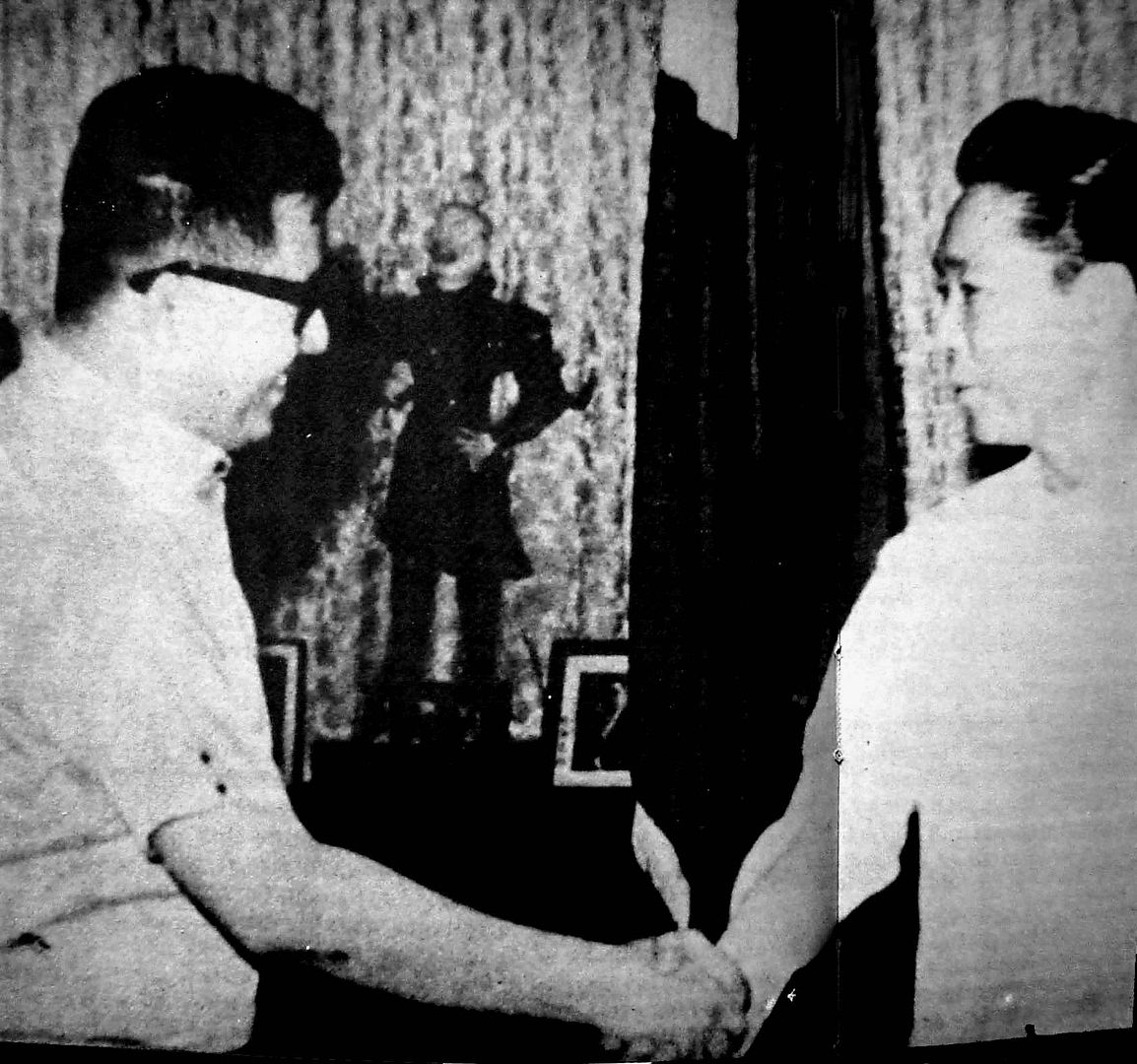 Whenever President Ferdinand Marcos was in the mood, he would gather his loyal generals in his study in Malacañang for an hour or so of leisurely discourse on issues that mattered most to him and his martial law administration.
Over coffee and pastries, the Commander in Chief would toss a question or statement for his court to comment on or contemplate in a relaxed, casual atmosphere so different from the formality of their ranks and position.
Indeed, it was an honor to be part of the gathering because it meant one was part of Marcos' inner circle.
In one tête-à-tête in late 1980 or early 1981, the conversation drifted to the "succession issue." Marcos was already sickly then but this was not known to the public. But the generals knew. They kept the secret to themselves.
What Marcos said that day was totally unexpected of the strongman as the generals knew him.
"My best successor," Marcos said in a serious tone, "is Ninoy Aquino."
The generals retreated into silence as Marcos went on praising Aquino like an ardently admired political ally rather than an archrival. They recoiled even more when Marcos pointed out that, among the politicians around, "Aquino is best prepared (to be president)."
Marcos' declaration disconcerted the generals, but none dared ask why it had to be Aquino, the former governor and senator from Tarlac province whom Marcos himself had called a "congenital liar, a braggart, a compulsive chatterbox and a blabbermouth."
On top of it all, Aquino was a "communist," which made him an enemy in the eyes of the generals.
Most qualified

Marcos had Aquino arrested when martial law was declared in September 1972. He was tried before a military tribunal for rebellion, murder and other crimes. Five years later, Aquino was sentenced to death, along with NPA chief Bernabe Buscayno, alias Kumander Dante, and Victor Corpus, a graduate of the Philippine Military Academy who had defected to the NPA with firearms stolen from the PMA armory.
Aquino had been in self-exile in the United States for several months when Marcos told his generals that the opposition senator was "best qualified" to be "the next president."
It was possible that Marcos may have already considered Aquino as a potential successor even before he allowed the Tarlac politician to have an open heart surgery in the United States on May 8, 1980.
On at least four occasions before May 8, 1980, Marcos sent his most trusted officer, AFP Chief of Staff Gen. Fabian C. Ver, to deliver a note to Aquino at his detention cell in Fort Bonifacio. On the last two visits, Ver asked his son, Col. Irwin Ver, commander of the Presidential Guards, to join him.
Martinez's claim
Ver told his son they were to bring a letter to the detained senator. The younger Ver expressed surprise; he thought all along that Marcos and Aquino hated each other's guts. Ver explained that Marcos actually admired Aquino, that Marcos even saw him as "brilliant enough to be president someday."
That Marcos was beginning to look at his fraternity brother in another light would not be known until years later when ex-Master Sgt. Pablo Martinez, among those convicted of the Aquino-Galman slayings, confessed his role in the Aquino assassination.
In a signed affidavit, Martinez said: "One month before the return from exile of ex-Sen. Benigno Aquino Jr., Col. Romeo Ochoco, then deputy commander of the defunct Avsecom, talked to me. Just the two of us, he told me that the next president of our country to succeed the incumbent President Marcos was ex-Sen. Benigno Aquino Jr. Accordingly, he was the choice of President Marcos to be his successor.
"This displeased those people surrounding Marcos, in effect, Aquino will be assassinated upon his arrival at the MIA (Manila International Airport). This was not revealed to anyone else except to me alone. Furthermore, Ochoco stated that once Aquino will be the president, all pro-government in the Marcos regime will be hiding in the mountains. It was not expounded to me why."
On Aug. 19, 1983, Ochoco had Martinez brought to the Carlston Hotel to meet Rolando Galman, the designated triggerman in the plot to kill Aquino. Two days later, Martinez brought Galman to the tarmac—where both Galman and Aquino ended up dead.
Various scenarios
From Day One in Boston, Aquino made it clear to his family that their stay in the United States was "temporary." He impressed upon them that one day, he would have to return to the Philippines.
When Aquino decided that this had to happen in July or August, 1983, he sat down to discuss various scenarios. The worst that they could think of? Arrest at the airport and detention in Fort Bonifacio.
Aquino consulted the splintered opposition in the United States, the Philippines and even those in the Middle East about his plans to go back to Manila. There was no consensus, however. Some advised him to go home and unite the opposition. Others urged him to remain in the United States or go to another country where he could be free to move around.
Almost everybody believed he was going to be jailed once he set foot in Manila.
NPA chief contacted
Aquino also sent word to the NPA chief, Rodolfo Salas, about the planned homecoming. The intermediary was a woman of Filipino-British parentage.
Salas, through the intermediary, advised Aquino not to come home yet for security reasons. Besides, the opposition would benefit more if Aquino could go on with his work as a free man in the United States or even in Australia or Germany, where the senator had planned to live after his fellowship ended.
Aquino sent a to-do list to Salas. On top of the list was to "help revitalize" the Liberal Party (LP). A splintered LP was a weak LP. A "united" LP would have strong chances of winning seats in the 1984 Interim Batasang Pambansa (IBP) elections.
Aquino wanted to participate in the IBP elections, and if he won, he was eyeing a coalition government that would include the Left. His intermediary also impressed upon Salas that the exiled senator wanted a "peaceful transition" in government.
That Aquino would suggest a "peaceful" option with a group waging an armed struggle did not surprise Salas. He knew Aquino was a traditional politician who would use any avenue or group, the NPA included, to advance his cause.
Salas met Aquino in the late 1960s when the senator brokered the groundbreaking meeting between Jose Maria Sison of the Communist Party of the Philippines (CPP) and Kumander Dante of the NPA. Salas was then the CPP political officer in charge of Central Luzon.
On a few occasions, Salas visited Aquino at his Times Street home in Quezon City to deliver a message or pick up gifts for the guerrillas, which came usually in the form of firearms.
Naughty side
Salas recounted a "naughty side" of Aquino during one visit at Times Street.
He had gone there with Ruben Tuazon, a former Partido ng Komunista ng Pilipinas (PKP) cadre who had joined the splinter CPP. They were waiting for their turn to talk to the senator when Aquino herded them from the kitchen to the sala, where a congressman from Zambales was seated.
"Don't say a word, I'll take care of everything," Aquino told Tuazon and Salas.
To the congressman, Aquino introduced Tuazon as "Kumander Pusa." The congressman shook Tuazon's hand in profuse gratitude. Tuazon/Kumander Pusa, as per Aquino's directions, did not say a word.
The congressman was overjoyed upon seeing "Kumander Pusa" because he had received a barong Tagalog with a black ribbon and a note purportedly signed by the popular NPA commander. It was the NPA's message that he was up for liquidation.
Shaken with fear, the congressman had asked for help from Aquino, who was already known for his links to the insurgents.
Unknown to the congressman, the "death message" was sent by Aquino himself, and as a favor, Aquino also "fixed" the problem by bringing the congressman and "Kumander Pusa" together.
Young man in a hurry
Aquino was a young man in a hurry. He was a war correspondent at 18, a Malacañang political adviser at 22, a mayor at 23, vice governor at 27, governor at 29 and senator at 35. He wanted to run for president in 1973, the year he would have turned 41.
In fact, Aquino was already urging his wife, Cory, to practice giving media interviews. He was using every medium available to reach out to voters, including standing as a wedding sponsor every weekend. If he could not make it, Cory would substitute.
To cope with the demand, Cory was buying wedding gifts by the dozen.
In 1972, Marcos declared martial law supposedly to save the republic from communists. But even the generals closest to Marcos believed he also wanted to thwart Aquino's presidential ambitions and pave the way for his "anointed one."
Early on during martial law, Marcos' core group thought Defense Minister Juan Ponce Enrile was "the one." When Enrile and Imelda Marcos bickered, Imelda gained the upperhand.
Waiting on the wings, too, was businessman crony Eduardo "Danding" Cojuangco, who was building a base in the military, reportedly using cash and connections. Cojuangco helped officers get choice assignments. Imelda reacted by showing her dislike for officers identified with Cojuangco.
Loyal to Marcos
But Marcos' inner circle doubted if Marcos himself ever arrived at a conclusion that he could confidently name Imelda as his successor.
The generals respected Imelda, but they were loyal to Marcos. Cojuangco was rich but bereft of charisma. He could not connect with the masa, a factor that the politically savvy Marcos wanted in a successor.
Marcos-Ninoy 'covenant'
An Aquino travel companion in the United States wrote about a "covenant" between Marcos and the exiled senator. The "covenant" included the position of "prime minister" in the National Assembly, provided that Aquino won a seat in the 1984 elections. That was why Aquino had to come home in 1983, so he could establish residency and prepare for the campaign.
Aquino worried over reports that Marcos' health was deteriorating. He was particularly concerned about the succession problem. He told his wife he wanted an audience with Marcos.
A member of Marcos' inner circle thought otherwise. He believed that Aquino knew all along that Marcos wanted him back, and Aquino knew because Marcos told him.
—
(Editor's Note: This part on the killing of opposition leader Benigno "Ninoy" Aquino Jr. is based on interviews with ex-Col. Irwin Ver, former commander of the Presidential Guards; Rodolfo Salas, alias Kumander Bilog, former chief of the communist New People's Army (NPA); and Sen. Benigno C. Aquino III. Also used here were an unpublished interview with Cory Aquino by the Foundation for Worldwide People Power; the memoirs of the late senator's friend and travelling companion, Martin "Noy" Brizuela; and the affidavit of ex-Sgt. Pablo Martinez, one of the soldiers convicted of the Aquino-Galman slayings and who was released last year when he turned 70 years old. A retired brigadier general close to the Marcos family also provided information on condition that his identity be withheld.)
Read Part 1: Fewer than 10 people in plot; 5 core, 5 others 'in theknow'
This post is Part 2.
Read Part 3: The Pattugalan Memos on Project 'Four Flowers'
Read Part 4: 4 innocents picked up, never to be seen again
Read Part 5: The most suspicious soldier on the tarmac
Read Part 6: 'To get to the mastermind, you must follow the money'
Read Part 7: Key players brought their secrets to the grave
—–
Note: The photograph in this post is from the Upsilon Sigma Phi, the Fraternity of both Pres. Ferdinand Marcos (Batch 1937) and Sen. Ninoy Aquino (Batch 1950).
Comments