Posted on | October 30, 2005 | No Comments
Long ago, as our nations' scholars would argue, the territories of today's ten Association of South-East Asian Nations (ASEAN) member countries were interconnected via land bridges. One archaeological proof of this is that while there are no elephants in the Philippines even as they are common in Cambodia, their skeletons have been found in the northern Filipino island of Luzon.
We were one people then, we were a family. The faces of our multi-national delegates look alike, and n if we were all to dress in, say for example Khmer clothes and keep quiet to hide our inability to speak Khmer, one would not be able to tell who is Cambodian and who is not. It is thus of special note that this project – the ASEAN Campus Journalists/Leaders Exchange Programme Phase I (ACJ/LEP Phase I) – is an attempt to rebuild that ancient solidarity that the South-East Asian region once had, with emphasis on starting early through today's campus figures who might as well be tomorrow's people of influence.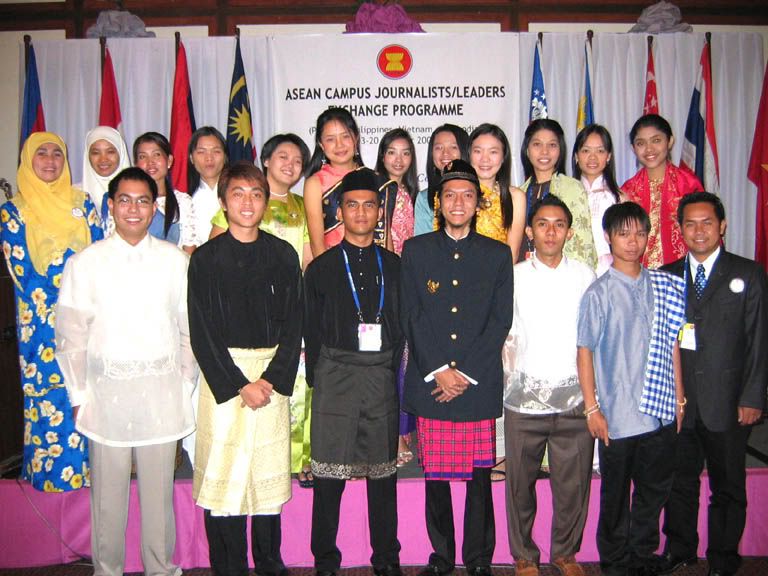 For close to three weeks, we nineteen delegates from the ASEAN countries travelled, learned, and enjoyed together in the spirit of Peace, Prosperity, People, and Participation.
We started our journey October 3, 2005 in Manila, Philippines wherein we were taught primarily the fundamentals of journalism. Philippine Press Secretary Ignacio R. Bunye (ably represented by Press Undersecretary Robert T. Rivera) welcomed us and formally opened the program. The framework for documenting our experiences was laid in light of our ASEAN background, and the ASEAN Committee on Culture and Information (COCI) was thoroughly introduced.
Experts on Philippine history, the youth, and practitioners from Filipino print and broadcast media took turns in both presenting the country's strengths and areas of improvement, all the while handling the ACJ/LEP delegates with the warmth and hospitality that Filipinos are known for. We interacted with fellow campus figures from a local university – the De La Salle University (DLSU) Manila wherein the activities of its student council and number of student publications impressed upon the delegates the passion of student journalists and leaders in serving their audiences and constituencies.
On the side, we delegates were comparing cultural notes with each other. Language was a game that everyone enjoyed playing – we found that several words had common meanings amongst our national languages, while some had entirely different meanings when spoken in two different countries.
Tours allowed us to relive the Spanish and American-Japanese eras of Philippine history when we were brought to the walled city of Intramuros de Manila and the island fortress of Corregidor. The Philippine leg was capped by shopping, dining, and entertainment at Manila's known areas.
Flying on to Hanoi, Vietnam we were welcomed by H.E. Tran Chien Thang, the country's Vice Minister of Culture and Information. Vietnam's resilience as a people was illustrated through a briefing on its history. A focus on entrepreneurial leadership was concretized by a visit to Traphaco – one of the country's leading pharmaceutical companies that based its success on a clear vision of leadership while implementing its mission through a wide range of drugs both western and traditional.
We had formal leadership training seminars in the form of lecturettes and workshops. Eight leadership competencies were taught to us – that of vision, influence, problem solving, change moving, strategic management, personnel development, communication, and integrity. Leadership styles such as autocracy, democracy, and laissez-faire together with their advantages and disadvantages were imparted onto us via self-learning exercises. Leadership through communication was emphasized when we visited the Institute of Journalism Studies and Humanities and Communication in Vietnam's Press University.
An appreciation of the country's culture was enhanced by visits to the Bat Trang pottery village and a silk-producing village. In both sites and after a few minutes of observing the skills behind the crafts and interacting with the local artists, we were allowed to shop for gifts and souvenirs uniquely Vietnamese.
Ho Chi Minh, the chief architect of Vietnam's success as a nation, had a museum dedicated to his honor that we visited. We saw how the rich history of the Vietnamese people proceeded to fight against invaders to their land. It was clear that President Ho Chi Minh exemplified a lot of the leadership competencies we learned in the classroom, and his legacy is that of a nation already moving ahead of most of its neighbors.
After a send-off from Vice Minister Tran, we ACJ/LEP delegates boarded a plane for one of the world's ancient sites – Siem Reap, in the Kingdom of Cambodia.
Our first day in the kingdom of eighteen million people immediately started with an exposure to the ancient Khmer civilization. We were awed by the impressive structures dedicated to Hindu gods and the Buddha: the stone temples of Siem Reap. Among them, Ta Prom's majesty (even as it was being invaded by nature) gave a taste of the spirituality of the city. Angkor Thom, that temple with several smiling faces on its turrets believed to be either that of the Buddha's or of ancient Khmer King Jayavarman VII, was another place to behold. Both of them however were meek and humble in comparison to what came next in the day – a trek into the Angkor Wat.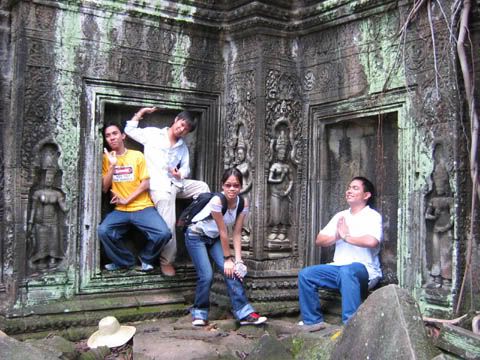 Considered to be a World Heritage Site, the Angkor Wat stood as evidence to the rich culture and tradition of the Khmer people. Cambodia is right in having the Angkor Wat symbolically placed on its flag. Floor-to-ceiling bas stone reliefs at the Angkor Wat's walls chronicled the Hindu epics Mahabharata and Ramayana, with the artisans of old paying great attention to depth and detail. Sanskrit inscriptions and other figures believed to be pictographs of the lifestyle of ancient Khmer showed that their civilization was already of significant development for their time.
The following day, a five-hour chartered bus ride to the capital city of Phnom Penh allowed us delegates time for informal conversation with each other. Upon arrival at the Phnom Penh Hotel, we were briefed by Cambodia's National COCI on the days ahead – functions with the diplomatic corps and cabinet-level officials of the Kingdom alongside more cultural tours, field visits, and formal training seminars.
Cambodian history as discussed by a professor-dean from the local University showed strong Hindu and Buddhist influences. Recent events were not spared from the briefing, when Pol Pot's regime and the tragic losses it caused the kingdom was touched upon.
Strengths of a non-government organization were exemplified by a visit to the Women's Media Center (WMC) of Cambodia. Run by a non-stock, non-profit, and non-governmental media organization, the WMC regularly broadcasts on FM radio and on occasion produces television programs for airing on the local networks. Starting from an organization that played a role in Cambodia's elections of the nineties, the WMC blossomed into a fully-functioning media outfit funded by generous donors and patrons who share its vision of "a society where men and women have equal opportunity, where they are portrayed with respect and dignity, and where their roles and contributions to social development are recognized and valued by all."
Later on in our stay at Phnom Penh, our hosts brought us to the National Museum of Cambodia. We found a repository of stone and metal treasures preserved from temples and other ancient sites. We moved on to the nearby Royal Palace, where we were privileged to have viewed the Kingdom's throne room and ceremonial hall.
In the same compound was the Silver Pagoda – the King's private temple floored by five thousand solid silver tiles weighing one and a half kilograms each. Inside also was an image of the Buddha cast in solid gold weighing ninety pounds all in all, studded with at least two thousand diamonds.
In the last few sessions of our conference, we delegates arrived at a consensus affirming our indebtedness to the ASEAN COCI for this rare opportunity of meeting colleagues among the youth of the ten member countries, proving that the ASEAN is indeed one community. Furthermore, realizing that much needs to be done among South-East Asian youth in the arena of awareness regarding ASEAN, we formalized our already tight bonds in a document known as the "Phnom Penh Declaration of the South-East Asian Youth". The declaration provided for the establishment of an ASEAN Youth Network (AYN) – the first of its kind with a regional scope – that shall endeavor a united and visionary ASEAN Youth with a sense of belonging, and is vocal, proactive, socially and culturally aware.
The declaration was signed on October 20, 2005 by all nineteen delegates from the ten ASEAN member countries and was formally received by H.E. Khieu Kanharith, Minister of Information of the Kingdom of Cambodia. The Philippines was given the honor and great responsibility of being the first presiding officer of the AYN Plenary, through my election as the Founding Chairperson of the AYN.
In the weeks and months ahead, though separated by seas and borders, we the delegates to the successfully completed ACJ/LEP Phase I and now as members of the AYN shall work towards the attainment of key result areas we laid down in Phnom Penh. May we be guided by the ideals and principles of the ASEAN.
(Reference: ASEAN Committee on Culture and Information – Philippines. For further information on the ASEAN Youth Network, please contact the author.)
Comments