Posted on | October 16, 2004 | No Comments
[Note: This was originally posted on my first blog at Blogdrive.com]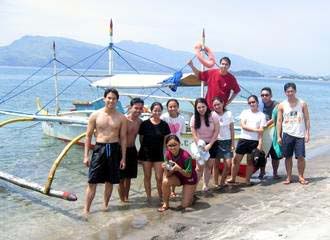 We had a lot of fun last Thursday to Friday overnight bumming around on the sand by day and sharing juicy stories amidst some food and booze by night.
Members of UP Medicine 2008's leech group (biochem, physio, and pharma research group 5) closed their books, stashed their transcriptions, and packed along pillows for unabated sleeping en route to Subic Bay, Olongapo City, in Zambales.
It was an adventure from the very start! At the planning stage, I was insistent on making plans (OC-PD… hehe) but my fab groupmates got the better of me by telling me to shut off my academic instincts and just let go and have fun in the process.
We played the whole trip by ear – airconditioned Victory Liner bus ride from Pasay City to Olongapo, dinner to-go at Jollibee, then jeepney ride from the city proper to the not-so-distant beach. Dumlao's beach resort – the place we stayed in, was really nice. Though sounding expensive at P1,500 for a cottage with beds for three people, it was worth it because management was not strict on the number of people occupying the hut (we had five boys in a cottage, six girls in another) aside from being hospitable and literally warm (hot drinking water for coffee was offered to us in the morning).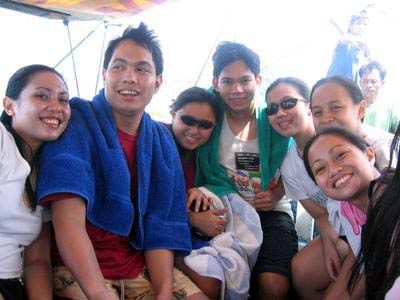 Food was not a problem. After spending most of the night with friends chatting in a picnic hut by the shoreline, three guys (myself included) woke up early at five in the morning to shop for raw foodstuffs at the local public market. Everything was fresh, and it's just a sin not to have a barbecue (pork liempo and stuffed squid, yum!) at a beach outing. I brought along my handy rice cooker, and a groupmate had a frying pan with spatula. Chips were overflowing! The only catch was that drinks were not so cold because we didn't have much ice, but that wasn't a problem.
After brunch at nine, we hired a banca (pumpboat) to tour us around the bay. We got a glimpse from the sea of Olongapo's beautiful shoreline, and we even stopped over at a central island where we took pictures on the rocks.
Beach volleyball then followed, while the athletically-challenged sat in a nearby picnic hut fighting off the hot sun with ice cream popsicles courtesy of the resident sorbetero.
Everything was spontaneous, and plain and simple relaxing and fun. We were a group of would-be medical colleagues in the future, but for the moment we just forgot all about the things we memorized day-and-night for one and a half years now and just… let go and be the children we still are. ;-D
(We're actually looking forward to another opportunity to escape to a different vacation spot just before the second semester starts.)
Comments