Posted on | September 17, 2005 | No Comments
1.) Freshie Sportsfest
Congratulations to the USC Manila Committee on Sports headed by Rep. Will Dacuyan (CD)! The USC SportsComm recently held its sportsfest for freshmen. Even though the weather was grumpy, the games played on.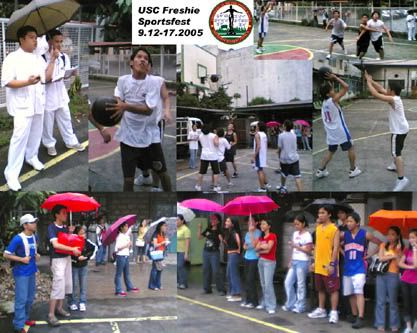 2.) Post-Mortem on Impeachment
As a co-convenor of the UPM PGH GAMOT (Gloria Move Out!) Coalition, the USC Manila co-sponsored a forum on the impeachment process' death and what lies ahead. This was held at the BSLR-E, UPCM yesterday, 9/16/2005. Speakers included Reps. Chiz Escudero, Alan Peter Cayetano, Arnulfo Fuentebella, Liza Maza, and Rolex Suplico.
In relation to the UPM PGH GAMOT affair, this is my letter to our co-convenors in relation to persistent requests that GAMOT should take on a stronger position beyond resignation and add more reasons for GMA's "ouster" aside from election fraud:
Dear co-convenors of GAMOT,

Regarding adding more information to GAMOT's statements, the USC must insist that all statements should be reviewed and not just added. We (USC) cannot lump together all issues into one call because they have not been discussed in student consultations.

We do not want to impose on the student body; the USC's continued membership in GAMOT is interpreted as the student body's consent to GAMOT's actions. Hence we must insist on our position that if other GAMOT member organizations would want to forward calls beyond resignation or in addition to the electoral fraud, these statements should be signed by those respective organizations and not by GAMOT.

Also, we maintain that GAMOT should stay with "resign", for that is the maximum unity point. I must respectfully state that anything beyond resign will cause the departure of the USC from GAMOT, unless our resolutions change otherwise.

I know that we are starting to sound like brakes, but that is the will of the majority of UP Manila students. As consultative and representative student leaders, we cannot compromise our position unless our principals (the students) tell us to do so.

Already I am receiving apprehensive feedback from bonafide student formations about the unexpected speeches and calls made by CAS SC Chairperson Sheena Trinidad at the end of the forum. She represents only one College; six other Colleges with a combined population bigger than Ms. Trinidad's jurisdiction think otherwise to what she delivered. Please understand our position. In the same way that GAMOT claims to speak for UPM, the University Student Council is the democratically elected voice of the student body. To trivialize its calls would be to ignore the students whom everyone is trying to win over.

The students may not agree to everything GAMOT says, and that is the hard reality for all of us: the challenge for them to be convinced. The USC joined GAMOT specifically for the forum's informational value. If the students still refuse to join calls beyond resignation, they should be respected.

Thank you. For the UP Manila students, I am

Yours truly,

Albert Francis E. Domingo
Chairperson, 27th USC Manila
Comments